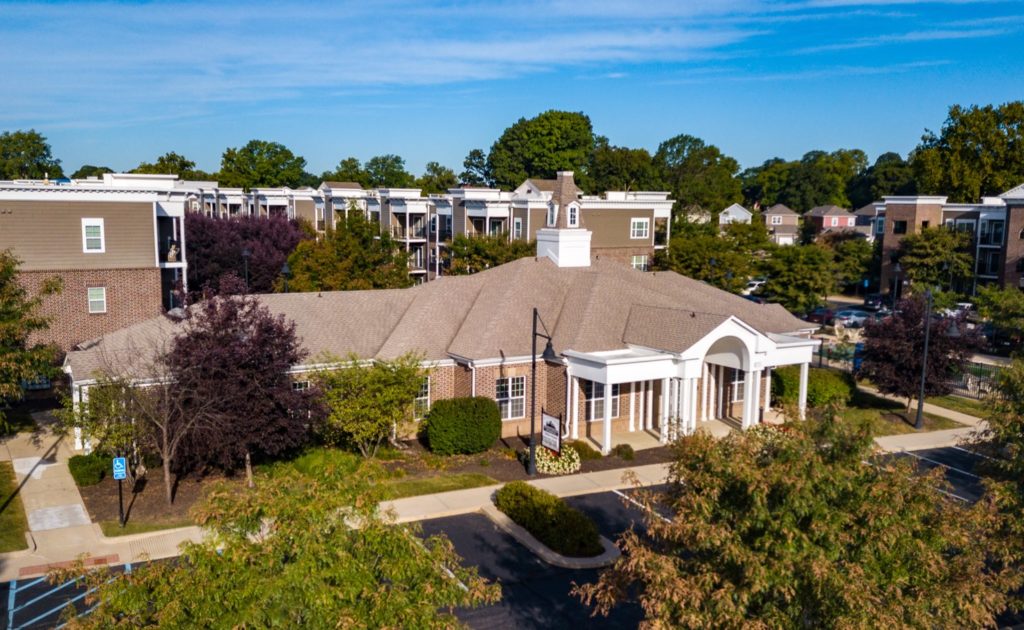 What sets us apart?
With regulator knowledge, oversight, and approval, our bank holding companies and our bank affiliates, United Fidelity Bank, fsb and International City Bank, work closely with leading financial institutions across the U.S. Consolidation of a lender mindset with our in-house development services set us apart from the competition and enable us to expand our investments into affordable housing in addition to pursuing our traditional community banking activities.
A shared vision for a better future
Making a stable investment choice in real estate isn't just about the properties. It's about the people.
Our banking affiliates partner with Pedcor to create unique financial tools to create affordable housing communities. Building a phenomenal product that serves people for years to come is a long-term commitment, and we are proud to partner with like-minded companies focused on the greater good.
Banking Team
PEDCOR CAPITAL
Pedcor Capital, LLC is the upper tier bank holding company for International City Bank (ICB) in Long Beach, CA which specializes in personal and commercial banking and lending with an emphasis in the creation of affordable housing. ICB also specializes in facilitating loans for the Small Businesses Administration (SBA).
PEDCOR FINANCIAL
Pedcor Financial, LLC is the upper tier bank holding company for United Fidelity Bank, fsb (UFB), which is a community bank that specializes in personal and commercial banking and lending with an emphasis in the creation and preservation of affordable housing. UFB also provides property management software and accounting services to affiliates of Pedcor Investments.
Executive Team
Legal
Compliance
Gerald K. Pedigo
Chairman
Mr. Pedigo has been involved in residential and commercial real estate development since 1958. He attended Butler University and subsequently was employed in the business of single-family construction and sales.
In 1962, Mr. Pedigo began his own firm while constructing approximately 400 homes and expanded his business to include commercial and industrial activities. Beginning in 1966, Mr. Pedigo concentrated on the commercial side of the construction business, forming Gerald K. Pedigo Corporation to provide real estate development services; Pedigo Construction Company, Inc. to provide construction services; and Pedigo and Associates to provide management services. His involvement included all facets of the industry including construction, ownership, marketing/leasing and management. He completed over 100 commercial and office buildings from $100,000 to $8,000,000. He was also a partner in several partnerships that owned and developed commercial and residential properties in Indiana, Florida, and Tennessee.
In 1986, as the tax shelter incentives were being revised, Mr. Pedigo sold the majority of his holdings and concentrated on general construction. In 1987, he joined Bruce Cordingley in forming Pedcor Investments to pursue affordable housing development.
Mr. Pedigo is a Director of the Executive Committee of International City Bank, (Long Beach and San Diego, California) and Director of Fidelity Federal Bancorp (Evansville, Indiana). He is Chairman of Pedcor Bancorp, the bank holding company for International City Bank, and Pedcor Financial, LLC, the holding company for United Fidelity Bank. He is a member of the Murat Shrine in Indianapolis and various trade associations as well as godfather in St. Mary's Child Center.
Bruce A. Cordingley
President & CEO
Bruce Cordingley is the President and CEO of the Pedcor Companies, a privately held group of over 200 companies, engaged in: (i) the development, construction, ownership and management of real estate and (ii) in finance and insurance. The Pedcor Companies started their activities in 1987 developing affordable housing in Indianapolis, Indiana.
The Pedcor Companies currently have over 950 employees located in twenty states with 200 employees located at its headquarters at Pedcor Square in Carmel, Indiana. The Pedcor Companies own and manage over 20,000 apartments which they had previously developed and built. The Pedcor Companies also include two bank holding companies, two savings banks, and an insurance company. In a public/private partnership with the City of Carmel, the Pedcor Companies have developed in Carmel's new City Center and in the Arts and Design district several Georgian style developments including: Carmel City Center (a mixed use midrise development), Pedcor Square (an office campus), The Indiana Design Center (one of 20 design centers in the U.S.) and the Old Town Shops (in the Arts District).
Bruce had previously been a partner with the law firm of Ice Miller specializing in real estate development and finance until 1990 when he left to spend full time on The Pedcor Companies. He served in the U.S. Army as a reserve officer until 1976 when he was honorably discharged as a Captain.
Bruce received his BSIM in Industrial Management (Purdue University, 1968), Juris Doctor (Harvard Law School, 1971), MA in Economics (Indiana University, 2002), completed Graduate courses in Mathematical Finance (Oxford University, 2002-2003), and an MS in International Finance (University of Maryland, 2006). He is a member of the bar in Indiana and Massachusetts and is a licensed real estate broker.
Bruce is happily married to Denise Cordingley (formerly a French teacher at Park Tudor), and they have three children, Alison (a real estate developer with The Pedcor Companies), Desiree (a money manager with Bessemer Trust in New York City), and Exton (formerly a Captain and JAG officer in the U.S. Army), and four grandchildren.
Phillip J. Stoffregen
Executive Vice President & COO
Mr. Stoffregen has been involved in commercial and residential development and financing since 1984. He graduated in 1980 from Indiana University (BS-Business Finance) with departmental honors. In 1981 he received his MBA degree from Indiana University (Financial Economics). In 1984 he graduated with Honors from the Indiana University School of Law and joined Ice Miller Donadio and Ryan, Indianapolis, Indiana, as an associate, becoming a partner active in both the Real Estate and Municipal Finance Sections of the firm in 1991. His legal practice focused on taxable and tax-exempt financing for, and development of, single-family and multifamily housing. Mr. Stoffregen served in a bond counsel capacity to the Indiana Housing Finance Authority and other Indiana issuers for various housing related tax-exempt bond-financing programs. He represented numerous for-profit and not-for-profit multifamily housing developers, lenders and investors, primarily in the area of low income housing tax credit, financing and development issues.
In 1992, Mr. Stoffregen withdrew from Ice Miller and joined Pedcor Investments, LLC as a Principal where he is directly responsible for apartment development, construction and financing activities. Pedcor Investments, LLC and its affiliates have developed in excess of 21,000 apartments since inception, most of which participate in the low income housing tax credit program. He is currently Executive Vice President and COO of Pedcor Investments, LLC.
Mr. Stoffregen is a Director/Member of the Executive Committee/Executive Vice President of Fidelity Federal Bancorp which is the holding company for United Fidelity Bank, Evansville, Indiana and a Director/Executive Vice President of Pedcor Capital, LLC and Pedcor Financial, LLC, which are upper tier bank holding companies for International City Bank, Long Beach, California and United Fidelity Bank, respectively. Mr. Stoffregen and his partners in Pedcor Investments, LLC own and control such bank holding companies.
In 2015, Mr. Stoffregen began his tenure on the Board of Directors for The Affordable Housing Tax Credit Coalition (AHTCC), a trade organization for affordable rental housing that seeks to preserve, expand and improve the Housing Credit and complementary programs through legislative outreach and education. Since 2012, Mr. Stoffregen has served on the Urban Land Institute (ULI), a nationally recognized organization in the fields of development, land use and urban planning, where he is a member of the Affordable/Workforce Housing Council. Mr. Stoffregen also served as a director of the Martin Luther King Community Development Corporation (1991 to 2000), and as a member of the board of directors for Coburn Place Safehaven, Inc., a not-for-profit operating transitional housing for victims of domestic violence (1996 to 2012), serving stints as Board Chairman for both groups.
Doug Boggs
Executive Vice President, CFO & Treasurer
Mr. Boggs graduated from Ball State University in 1992 (BS – Accounting). He started his career with Pedcor Investments, LLC as a Staff Accountant in 1993. In 1995, Mr. Boggs went to work for Simon Property Group, the largest REIT in North America at the time, where he worked for three years holding both Staff & Senior Accountant roles. In 1998, Mr. Boggs was re-hired by Pedcor Investments, LLC as an Assistant Controller and was later elevated to CFO in 2006 where he presently serves in the same role. Mr. Boggs has over 25 years of residential and commercial real estate accounting experience. In 2019, he was named the CFO of Pedcor Financial, LLC, the upper tier bank holding company for United Fidelity Bank, fsb (Evansville, IN) and Pedcor Capital, LLC, the upper tier bank holding company for International City Bank (Long Beach, CA). Mr. Boggs oversees the Real Estate & Bank Holding Company accounting operations for the Company, which includes approximately 40 staff members.
Ronald Brown
Senior Vice President & General Counsel
Laurie Siler
Senior Vice President & Senior Credit Officer
Kelly George
Senior Vice President & Chief Accounting Officer
Terry Grevel
Senior Vice President & Tax Director
Mr. Grevel graduated from Indiana University, Bloomington in 1998 with a Bachelors in Accounting and Finance. He has been a CPA since 2002 and prior to joining Pedcor his public accounting experience includes 4 years with Crowe. He joined Pedcor in August 2003 as a Tax Manager and has since been promoted to Tax Director. Mr. Grevel has over 15 years of experience in real estate and financial institution tax compliance.
Shuron Agnew
Senior Vice President & Deputy CFO – PILLC
Ms. Agnew graduated from the University of Southern Indiana in 1997 with a Bachelor of Science in Accounting. She served in the Indiana Army National Guard for six years and was honorably discharged as Specialist in 1996. In 2007, she received her MBA from Anderson University, and in 2014 obtained her CPA license.
Ms. Agnew joined Pedcor in 1997 as staff accountant preparing financial statements for a portfolio of real estate entities. Ms. Agnew received several promotions within the accounting department and in 2006, was promoted to Vice President and Accounting Director overseeing accounting and treasury operations. In 2019, she was promoted to Senior Vice President and Deputy CFO of Pedcor Investments with additional responsibilities of strategic planning for Accounting and Treasury.
Jason Schnellenberger
Vice President & Counsel
Christin Conner
Vice President & Counsel
Terre Cross
Assistant Vice President, Assistant Secretary, & Executive Legal Assistant
Troy Buchanan
Legal Assistant
Blake Jeffries
Legal Assistant
Abigail G. Frantz
Senior Vice President & Secretary
Ellie Wannemuehler
Assistant Compliance Officer
Ms. Wannemuehler graduated with distinction from Indiana University – Bloomington in 2015 with a BA in Accelerated Chinese and a Public Policy Minor. She spent a year as a Fulbright scholar in Beijing and spent two additional years studying at National Taiwan University and Nanjing University, as well as interning in the International Intellectual Property Rights division at Yingke Law Firm in Guangzhou, China. Ms. Wannemuehler joined Pedcor in September, 2016 as the compliance officer for the banking entities, and is currently pursuing a dual MBA from the Kelley School of Business in both management and information technology management.
Pedcor's bank holding companies are successful because of the people who support them. Meet our highly specialized accountants, tax managers, and finance personnel. These groups also provide their services to Pedcor's residential development team.
Accounting
Accounting & Finance (Banking only)
This team exclusively focuses on bank holding company accounting and finance activities.
A/P, Payroll, Benefits & Admin.
Treasury
Tax
Cindy Johnson
Vice President & Accounting Director
Kry Ok
Vice President & Assistant Accounting Director
Mr. Ok graduated with BS – Business Administration from Indiana Institutes of Technology in 1993 and earned his MBA from Anderson University in 1998.  Mr. Ok joined Pedcor in April of 2005.  He reviews Corporate financial reporting and coordinates annual audit with external auditors.  Prior to joining Pedcor, he was a Senior Lead Auditor with a local Public Accounting Firm.  He is a licensed CPA in the State of Indiana.  He is in good standing and an active member of INCPA Society, AICPA, and CGMA.
Nicole Bowen
Accounting Manager
Alicia Legg
Accounting Manager
Heath Memmer
Accounting Manager
Mr. Memmer graduated from the University of Southern Indiana with a degree in Accounting in 1995.  He is a licensed CPA in the state of Indiana and a member of Indiana CPA Society and AICPA.  Mr. Memmer is a reviewer and preparer of corporate and partnership financials.
Lonita Holmes
Senior Staff Accountant
Karim Abdullah
Staff Accountant II
Christopher Stuck
Staff Accountant I
Nicholas Luke
Staff Accountant I
Busilizwe Bukhwele
First Vice President & Senior Accounting & Finance Manager
Mr. Bukhwele graduated with a Bachelor of Commerce in Accounting and a minor in International Economics from the University of Fort Hare in South Africa. He earned his MBA from the Isenberg School of Management at University of Massachusetts Amherst. Mr. Bukhwele joined Pedcor in 2004 and is presently the Senior Finance Manager for Pedcor Bancorp.
Jared M. Houser
Executive Vice President – Development & Finance
Mr. Houser graduated from the University of Indianapolis in May 2002 and received his M.A. in Economics from Indiana University (Indianapolis) in 2007. Prior to joining Pedcor his experiences include 2-years as an analyst with a local community bank and serving the 2005 session as an intern financial analyst for the Indiana House Ways & Means Committee.
Mr. Houser joined Pedcor as an intern during graduate school in April 2005 and accepted a full time position as a financial analyst with Pedcor Bancorp in August 2005. He accepted the position of Vice President with Pedcor Investments in October 2007 and has since been promoted to Senior Vice President overseeing the financial operations of Pedcor Investments and its affiliates. His responsibilities include, but are not limited to, development deal structuring, strategic capital management, and operational management and oversight.
In addition to his position with Pedcor Investments, Mr. Houser serves on the Interest Rate Risk and the Strategic Markets and Interest Rate Risk committees of United Fidelity Bank and International City Bank, respectively.
Amanda Yordy
Accounting Manager
Brandon Wolfrum
Senior Accountant
Brittney Jaeger
Staff Accountant II
Kelsey Alexander
Staff Accountant
Ciara Ogle
Associate Accountant
Ms. Ogle graduated from Ball State University in August 2015 with a BA in Graphic Arts Management and a Business Administration Minor.  She is currently attending Indiana University Kokomo where she will complete the M.B.A program with a concentration in accounting.  Ms. Ogle joined the Pedcor team in February of 2018 as an accounting assistant.
Emily Mansfield
Accounting Assistant
Michael Schmitt
Financial Analyst II
Andrew Grass
Financial Analyst
Stephanie Anthony
Vice President & Director Of Accounts Payable, Payroll & Benefits
Ms. Anthony holds a Bachelor of Science in Accounting and a Master of Business Administration with a Human Resource concentration. She joined Pedcor Investments in October 1997 as a Payroll Clerk. She then transitioned to Accounts Payable Clerk and later promoted to Vice President and Director of AP, Payroll & Benefits. She supervises the accounts payable and payroll functions for all divisions and the administration of the company's benefits.
Janice Hunnecook
Payroll Coordinator
Kathleen Stevens
Accounting Assistant/Payroll
Leslie Branson
Accounts Payable Manager
Laura Spencer
Senior Accounting Assistant/AP
Angie Hochstetler
Accounting Assistant/AP
Sarah Harmon
Accounting Assistant/AP
Amanda Jenkins-Palmer
Senior Administrative Assistant
Denise Newport
Treasury Manager
Ms. Newport joined the Pedcor team in November 2009 as a member of the Accounts Payable staff.   In 2013 she transitioned to the Treasury department where she currently is the Treasury Manager.  Prior to joining Pedcor she worked 14 years in the customer service and accounting department for Bertelsmann Music Group.
Alexis Miller
Treasury Analyst I
Lauren Smith
Treasury Analyst I
Mrs. Lauren E. Smith is an Indianapolis, Indiana native, a devoted Christian, married to Ryan M. Smith. Lauren is a Fisk University of Nashville, Tennessee graduate 2007, current candidate for Master of Business Administration Indiana Wesleyan University spring 2021. She is also an active member of the Indianapolis Alumnae Chapter of Delta Sigma Theta Sorority, Inc, The Circle City Chapter of The Links Incorporated, as well as The Indy Black Chamber of Commerce. Lauren has evolved in the real estate and finance industries for 12+ years as a Real Estate Broker facilitating property sales and management services, now supporting the accounting team as Treasury Analyst all while encouraging financial wellness and education. She enjoys spending time with family, exploring different foods, roller skating, and favorite vacation pre-Covid is Oaks Bluff, Martha's Vineyard. Favorite quote: "To whom much is given, much is required Luke 12:48."
Scott Palmer
Tax Manager
Scott joined Pedcor in 2016, after 3 years in public accounting with Katz Sapper & Miller. He
graduated from Indiana University Bloomington in 2013 with a Bachelor of Science in
Accounting and Finance.
Jennie Kirkpatrick
Senior Tax Accountant
Jennie joined Pedcor in 2019, after 3 years in bank loan accounting, 7 years in public accounting, and a  year in real estate accounting. She graduated from Indiana Wesleyan University with a Bachelor of Science in Business Administration and a Master of Science in Accounting.
Pedcor for the People
|
Greenlining
In acknowledgement of the devastating history of redlining in the banking industry, in 2017 our affiliate, United Fidelity Bank, created a "greenlining" program which we call the "New Hope" program.
New Hope provides below market interest rate mortgage loans to individuals and families in low to moderate income communities and/or those with low to moderate incomes — just one way we are working to generate more equitable financing options for future homeowners and promote investment in low- and moderate-income communities.
Like most investors, we don't like surprises. Pedcor does a great job communicating with us to make sure that we don't have any.

– John Lisella, U.S. Bancorp Community Development Corporation